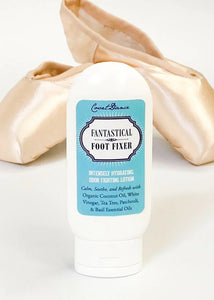 Covet Dance Fantastical Foot Fixer Lotion
Regular price $12.00 Sale
From the Dance Apothecary of Covet Dance comes the intensely hydrating, odor-fighting Fantastical Foot Fixer Lotion!  A sweet treat for your hard-working feet, this lotion will sooth, moisture, and deodorize your tired tootsies, featuring:
Purifying tea tree, wild oregano, and geranium oils.
Super moisturizing organic coconut, organic hemp, and sweet almond oils.
Nourishing & soothing organic aloe and green tea.
Odor-eliminating white vinegar.
Specifications: 2 oz. (60 ml). 
Material: Organic Aloe Leaf Juice, Organic Coconut Oil, Emulsifying Wax, Stearic Acid, Glycerin, Grape Seed Oil, Witch Hazel Water, Vitamin E, Sunflower Seed Oil, Organic Neem Seed Oil, Organic Rosemary Leaf Extract, Organic Sunflower Seed Oil, Phenoxyethanol, Distilled White Vinegar, Patchouli Leaf Oil, Tea Tree Leaf Oil, Wild Oregano Oil, Sweet Basil Leaf Oil, Geranium Oil, Cinnamon Leaf Oil, Rose Flower Water, Sweet Almond Oil, Organic Hemp Seed Oil, Organic Green Tea Leaf Extract, Organic White Willow Bark Extract, Organic Alcohol, Xanthan Gum, Tetrasodium Glutamate Diacetate.